Enable Wake on LAN:
Windows XP
The following instructions will show you how to enable Wake on LAN on your PC running Windows XP.
Open Device Manager
Right–click My Computer, click Manage, and then click Device Manager.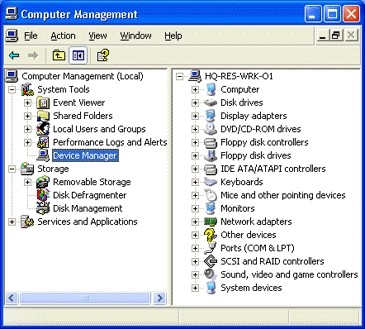 Select Network Adapter
From the device manager list in the right hand pane, double click Network Adapters. Then double click the network adapter which you want to use for Wake on LAN to open its properties window. If there are multiple network adapters listed avoide ones with Wireless or Virtual in their names, look for Ethernet.
Power Management
From the network adapter's properties window, click the Power Management tab. In the Power Management tab make sure Allow this device to bring the computer out of standby. and Only allow management stations to bring this computer out of standby. are checked. With these options checked you should now be able to wake up your computer if it is in stand by. To wake your computer when it is powered off, see Advanced and BIOS below.
If there is no Power Management tab or if the Power Management tab is missing the above options then your network adapter might not support Wake on LAN.
Advanced
Sometimes additional Wake on LAN options are available in the Advanced tab on the ethernet controllers properties window. The options available on the Advanced tab are different for each network adapter. Genterally Wake on LAN options will have one of the following in their name "wake on lan", "wol", "magic-packet".
BIOS
Sometimes Wake on LAN can be enabled from the computers BIOS. The BIOS is usually accessible by pressing a key when your computer is booting. Changing BIOS settings can be dangerous proceed with caution.